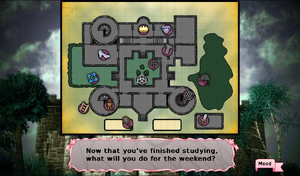 At the end of every week,
Elodie
will be given some time off to entertain herself.
Gameplay-wise, is at this time that the player can take actions that will change Elodie's moods according to the chosen activity.
Under certain conditions, some activities may be part of a continuing questline, and doing so may reveal more of the story. Examples are visiting people (Joslyn, Julianna, Selene, Charlotte...), Attending Service (after a certain event) and Visiting the Dungeons (after certain events).
Possible Activities
Edit
Attend Ball Edit
To unlock Attend Ball, you need Dance >50
Mood Changes
Variables
+1 Pressured


+1 Noble Approval

Pressured = 0
+1 Depressed


+1 Pressured
+1 Noble Approval

Pressured > 0
+1 Cheerful


+1 Pressured
+1 Noble Approval

Pressured < 0
Attend Court Edit
Mood Changes
Variables
+2 Yielding


+1 Depressed
+1 Pressured
+1 Noble Approval
+1 Commoner Approval

None
+2 Yielding


+2 Pressured
+1 Noble Approval
+1 Commoner Approval

Joslyn has died
Attend Service Edit
| Mood Changes | Variables |
| --- | --- |
| -1 Cheerful | Mood = Cheerful |
| -1 Depressed | Mood = Depressed |
| -1 Angry | Mood = Angry |
| -1 Afraid | Mood = Afraid |
Explore Castle Edit
To unlock Hunt, you need Horses >50
Mood Changes
Variables
+1 Depressed


-2 Afraid
+0.5 Cruelty

Angry < 0
+1 Cheerful


-2 Angry
+1 Cruelty

Angry > 0
Play with Toys Edit
+1 Yielding
+1 Lonely
+1 Cheerful
Sneak Out Edit
Mood Changes
Variables
+2 Willful


+1 Lonely

None
+1 Willful


+1 Lonely
+1 Depressed

Joslyn has died
To unlock Sports, you need Reflexes >30
Mood Changes
Variables
+1 Angry
Lonely <= 0
+1 Angry


-1 Lonely

Lonely > 0
Talk to Father Edit
Mood Changes
Variables
+1 Lonely
Week 1
+1 Willful
Elodie leans about her crystal
+1 Yielding


+1 Pressured

Went to war on Week 10
+1 Yielding


+1 Cheerful

All previous conditions unavailable or cleared
Tour the Barracks Edit
You must have Strategy > 40 to Tour the Barracks
Mood Changes
Variables
-1 Willful


+1 Pressured

Willful > 0
-1 Yielding


+1 Pressured

Willful < 0
+1 Pressured
Willful = 0
+1 Depressed


+1 Pressured

Troops = 0?*
*Possible outcome of Test: War > Failed during Week 35
Visit Charlotte Edit
Mood Changes
Variables
+1 Cheerful
Week 2
+1 Cheerful


-1 Lonely

Week 2 visit was skipped
+1 Cheerful
Made Lucille your Lumen Minister on Week 17
-1 Depressed
Joslyn has died
Visit Dungeons Edit
Mood Changes
Variables
No effect
Willful = 0
+1 Yielding


+1 Afraid

Willful < 0
+1 Willful


+1 Angry

Willful > 0
+1 Cheerful


+1 Angry
+1 Cruelty

Cruelty > 5


This overrides all other variables
Visit Tomb Edit
Visit Treasury Edit
You must have a magic tutor or Accounting > 60 to Visit Treasury
Mood Changes
Variables
+1 Angry


+1 Willful

Presence < 40


Accounting < 60

+1 Willful
Presence > 40 but <70


Accounting < 60

+1 Willful


Check your fundings
If you don't have it, obtain your Lumen Crystal

Presence > 60


- or -
Accounting > 60
Walk in the Gardens Edit